On April 14th, a postcard arrived from California, USA. The postcard shows a picture of Little Sur Beach – Big Sur California.
The Big Sur is a 100 km (62 mi) stretch of coastline between San Simeon in the south and Carmel-by-the-Sea in the north.
According to the postcard, the photo was taken by Michael Santa Cruz.
A very nice postcard.
He wrote very nice lines. He also has black cats, I have one. He visited Germany and speaks several languages.
Even after registration, we wrote a few lines with the Postcrossing message function.
The stamps are a hit. A total of 4 and 2 of them are simply class and candidates for stamp of the month. Even if they don't make it, I'll present them separately.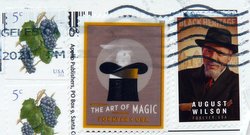 One is a stamp on the subject of magic. It is a hologram stamp where a rabbit comes out of the cylinder.
The second stamp is a portrait of the famous August Wilson.
Great postcard, great stamps and nice exchange. Happy Postcrossing!
The postcard covered 9,611 kilometers (5,971 miles) in ten days.