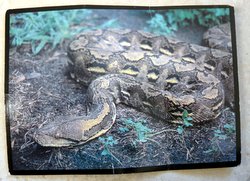 On August 12, 2022, a postcard arrived from the Philippines.
The postcard shows a Reticulated Python.
It's the longest snake in the world. It can grow up to 10 meters (393 inches) long. The snake lives among others on the Philippine Islands.
Among other things, he wrote that he lives in Manila. Manila is the capital of the Philippines.
There were 2 different stamps on the postcard. A stamp shows a hebrew cone. The other stamp features a portrait of former Philippine President Benigno Simeon "Noynoy" Cojuangco Aquino III.
The postcard covered 10199 kilometers, that is 6337 miles, in 21 days.