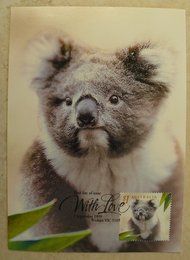 On August 13th a postcard arrived from Australia.
The postcard has a koala as a motif, as does the stamp that goes with it. This koala stamp was launched in September 1999.
It looks to be the official Koala postcard for the stamp launch.
She lives in Brisbane and has visited Germany twice.
She wrote quite a bit about wildlife in Australia.
The koala stamp was on the front and will expand my animal stamps.
The postcard covered 15,999 kilometers, that is 9,941 miles, in 28 days.