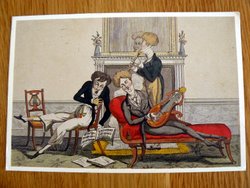 On August 12th a postcard came from the Netherlands.
The postcard shows the illustration "Le trio sentimental" from 1822 by G. Cruikshank. The copyright is owned by Haags Gemeentemuseum, The Hague.
He didn't write much other than a few kind regards.
There are 2 Dutch postage stamps on the postcard. A postage stamp with a blue background shows a windmill. One of the landmarks of the Netherlands.
The postcard covered 640 kilometers, that is 397 miles, in 4 days.