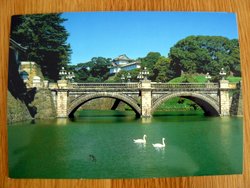 A postcard arrived from Japan on August 13th.
This shows the moat to the Imperial Palace Chiyoda-Jo Castle Tokyo.
The Japanese emperor lived there.
The palace is located on an isolated island and for security reasons with only a few bridges to the mainland.
The postcard is a candidate for Postcard of the Month. I like this very much.
She has no pets, only a swan lives nearby.
She had to go to the post shop for the stamps she took. Otherwise you won't get them anywhere. These are for celebrations.
The postcard covered 9140 kilometers, that is 5679 miles, in 7 days.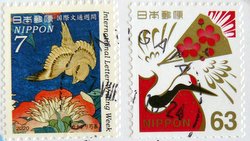 Update: 2021-12-04
This postcard is the Postcard of the month August 2021