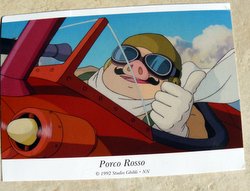 A postcard arrived from Japan on July 21, 2021.
It's a Porco Rosso postcard (Studio Ghibli).
He wrote some nice lines. He lives in central Japan. He also received a thank-you-return postcard from me.
There are 3 very nice stamps on the postcard. 2 stamps show animals. Once a rabbit and a mother monkey with a baby. I have added both stamps to the table overview for animal stamps.
The postcard covered 9,315 kilometers, that's 5,788 miles in just 9 days.