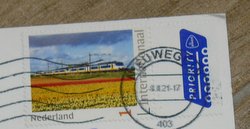 On February 10th a wonderful postcard arrived from Amsterdam. The postcard shows an atmospheric picture of the city of Amsterdam at night. For me it was the postcard of the month February 2021.
An illuminated bridge that spans a canal. The typical Amsterdam houses can be seen in the background.
The stamp on the postcard is also well chosen and shows a moving train in the Netherlands, with tulip fields in the foreground.
The postcrosser wrote nice lines and we had a short exchange via the postcrossing portal.
The postcard covered 615 kilometers (382 miles) in three days.