The first postcard from Slovakia arrived on February 10, 2021. The postcard came from Bratislava, the capital of Slovakia.
The postcard shows a landmark of Bratislava, the Danube bridge to the city with the distinctive UFO. The UFO is a tower restaurant about 80 meters high (262 feet). From this tower restaurant you have a panoramic view of the city of Bratislava.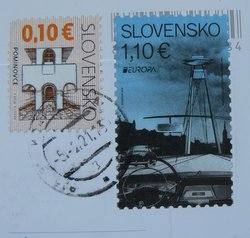 One of the two stamps also has the Danube bridge with the UFO as a motif.
The postcard covered 482 kilometers (299 miles) in six days.