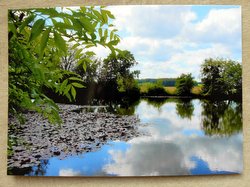 In February 2022 my 13th edition of postcards came off the press.
This is now going on a postcrossing journey.
The picture shows a water lily pond with cloud reflection.
I took this picture during a little hike. It was a very quiet place with a nice atmosphere.
The printer's print software offers a large number of icons and cliparts for the reverse side.
I already use some icons, such as the weather symbols, in the previous postcard editions.
This time I added the Munich silhouette as an innovation.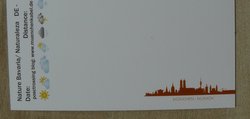 I liked it a lot and I think the recipient can use it to better identify the postcard geographically without reading the text I am writing.
I'm curious how the water lily pond postcard will be like.
I will do an update here and write briefly to which country the first trip went.
HAPPY POSTCROSSING!
update: The first postcard went to the Czech Republic.