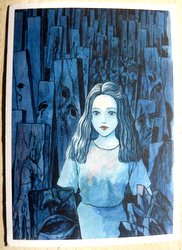 On August 16, I received a postcard from Taiwan.
This shows a drawing from a dark manga by Junji Ito.
She lives in the capital of Taiwan in Taipei City. She wrote some nice lines. Her husband is reading this manga.
Since I like Dark Manga, I like this postcard,
On the postcard is a beautiful Taiwanese postage stamp, which shows an animation character from a Disney movie.
The postcard traveled 9,324 kilometers, that's 5,793 miles, in 18 days.