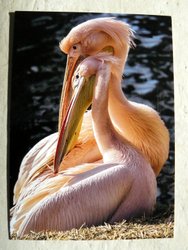 A postcard arrived from the Netherlands on August 22nd.
This shows 2 rosy pelicans.
She wrote that she lives between Rotterdam and The Hague. She likes walks to the beach and enjoys taking photos.
On the postcard is a standard Dutch postage stamp with a postmark from Rotterdam.
The postcard covered 663 kilometers, that is 411 miles, in 4 days.