On April 30th a postcard came from the USA.
It shows a sample of contemporary design.
According to the postcard the title is: "Orfelia, 2012 – Hannah Schultz".
She wrote that she liked to hike.
The stamp is a standard U.S. Global.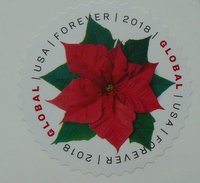 The postcard covered 6,565 kilometers (4,079 miles) in 7 days.