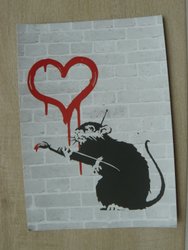 On May 11th, I received a postcard from Taiwan.
The postcard shows a famous street art painting by Banksy.
Banksy is a pseudonym of one of the most famous street artists from England.
She wrote on the postcard that she is a big fan of Banksy's art.
She still had a funny idea. She hid the Poscross ID behind a scratch-off field, similar to lotteries.
The postcard traveled 9,310 kilometers (5,784 miles) in 11 days.