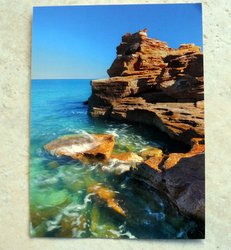 On May 7th a postcard arrived from Australia.
The postcard shows a picture from Gantheaume Point near Broome in Western Australia.
An incredibly beautiful place. It is a promontory 6 kilometers (3.7 miles) from Broome. If you want to find out more, here is the Gantheaume Point website.
According to the text on the postcard, the photo is from Sara Winter (shutterstock.com).
She wrote that she was planning a visit to Broome when COVID-19 thwarted the plan.
She'll try again sometime later.
She is now planning her business in Melbourne.
The postage stamp on the postcard is an Australian pre-paid stamp.
The postcard covered 16133 kilometers (10,024 miles) in 16 days.