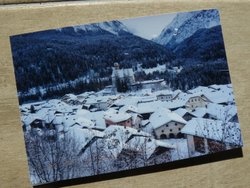 The first postcard for February arrived on February 2, 2021. The postcard came from Switzerland. It is more of a handmade photo postcard.
The picture shows a village in a valley and high mountains covered with snow in the background. From the still rather pale colors, I would guess the morning hours of the beginning of the day.

The stamp on the postcard is a webstamp from the Swiss Post.
The postcard took six days to cover the 195 kilometers (121 miles).