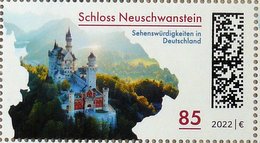 In September 2022, Deutsche Post launched a new stamp with Neuschwanstein Castle.
The postage value is 85 cents. This is currently the value for a letter sent nationally. A postcard international is 95 cents.
Neuschwanstein Castle in Bavaria is one of the most famous sights in Germany. More than a million tourists come to visit it every year.
In 1869 the construction of the castle for the then Bavarian King Ludwig II began.
For more information, visit the Neuschwanstein Castle website.

Happy Postcrossing!