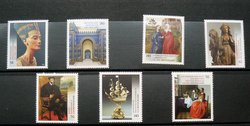 Today I received my delivery of postage stamps from the Deutsche Post series Museum Treasures.
I think these stamps are just beautiful and I am curious whether the postcrossing recipients will also feel that way.
I have already been able to see some of the art treasures shown live in the museum, such as Nofrete. It is exhibited in the Egyptian Museum in Berlin.
Happy postcrossing!