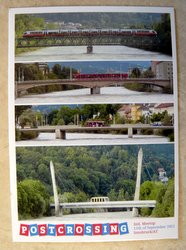 On September 14, 2022, a postcard arrived from Austria.
It's a meetup postcard from the 11th meetup in Innsbruck.
The postcard shows a collage various means of transport, such as trains, trams and buses, each in the middle of a bridge.
A great motif idea.
He wrote some nice lines. He is the organizer of the Innsbruck Meetup.
On the card is a wonderful ÖBB class 4130 train stamp. I am adding the stamp to the train stamps.
The postcard covered 96 kilometers, that is 60 miles, in 3 days.