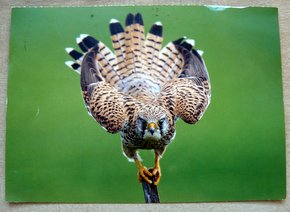 On January 8, 2022, a postcard arrived from Switzerland.
The postcard shows a close-up of a kestrel.
She wrote very nice lines and that she comes from the canton of Freibug, which is bilingual (German and French).
On the postcard were 3 really exceptional stamps that required a lot of research from me.
The 1st stamp with 20 centimes shows the blue-green hydnellum. In Latin Hydnellum caeruleum. The stamp was designed by Karin Hänni and was published in 2014.
For me this stamp is a candidate for stamp of the month.
The second stamp shows a Swiss 10 Rappen coin with a blue background by Marc Weller. It's also a very nice design.
This stamp is from 2022.
The third stamp was also designed by Marc Weller and is entitled Fleurier and was launched in September 2018.
She put a lot of effort into choosing the stamps.
The postcard covered 345 kilometers, that is 214 miles, in 2 days.