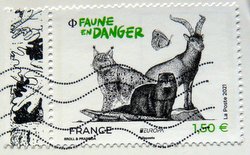 The French Postage Stamp Endangered Wildlife became Stamp of the Month for September 2021.
The short version: I have a heart for animals.
Personally, I think that we humans are too often too careless of nature and especially the wild animals that live in it.
In my opinion, we should learn to live with nature and not against it. This stamp touched me and reminds me of reality.
Sometimes I think that the indigenous people understood it better. OK, they didn't have all of the conveniences of the western world, but do we really need all of that on that level?
Happy postcrossing!