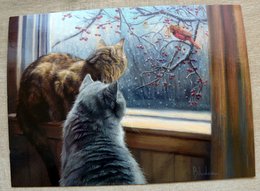 On December 30, 2021, a postcard arrived from Belarus.
The postcard shows a drawing of 2 cats looking out of the window and watching a bird.
The original title is Winter's Day by Lucie Bilodeau.
She wrote Christmas greetings and New Year greetings. She is from Minsk.
On the postcard is a stamp with the title Greetings from Belarus. This shows various dishes, foods and animals that are typical of the country.
The postcard covered 1297 kilometers, that is 805 miles, in 22 days.