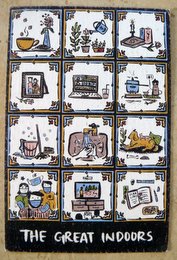 On February 23, 2022, a postcard arrived from India.
It's a COVID-19 postcard showing indoor pastimes.
She wrote a few nice lines. She is from Bangalore.
On the postcard is an Indian stamp showing an Indian embroidery Kantha, which has leaves as a motif. It was launched in 2019 and is valued at 15 rupees. That's €0.18 today.
The postcard covered 7179 kilometers, that is 4460 miles, in 38 days.