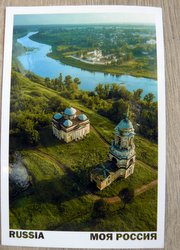 On February 22, 2022, a postcard arrived from Russia.
The postcard shows a Russian landscape with a river and a small town.
She wrote that she was just signing up for postcrossing.com and I was her first postcard to send. This is very rare.
She lives in Kazan and likes movies.
On the postcard is a picture by EN Maksimov entitled Izborsk.
The stamp was issued in July 2021 and has a value of 59 Russian rubles.
The postcard covered 2,683 kilometers, that is 1,667 miles, in 23 days.