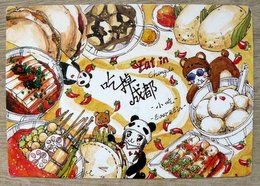 On March 19, 2022, a postcard arrived from China.
The postcard shows a drawing of Chinese food.
She didn't write much, only if I liked the postcard. There wasn't much space to write on the postcard either.
There were 4 large format stamps on the postcard. They were very nice stamps, I especially like the mountain range.
The mountain range stamp dates from 2015.
The postcard covered 8010 kilometers, that is 4977 miles, in 112 days. The postcard took a long time to travel.