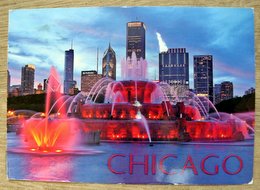 On March 29, 2022, a postcard arrived from the USA.
The postcard shows Buckingham Fountain in Chicago.
She lives in Chicago. It must have been very cold when she wrote the card. She wrote that there is snow and ice everywhere.
Chicago has over 2.5 million residents.
There are 4 great stamps on the postcard. A stamp shows a Tiffany lamp. The stamp is from 2008 and has a value of 1 US cent. A very beautiful postage stamp.
The postcard covered 7261 kilometers, that is 4511 miles, in 35 days.