On January 22nd, 2021 another postcard came from Finland. The postcard shows the movie poster from the movie "Kill Bill". The feature film came in 2003 in the cinemas. The leading actress was Uma Thurman. It was the first postcard I received with a movie poster.
There are also two beautiful Finnish postage stamps on the postcard. One of the two stamps shows a close-up of a hedgehog. The other stamp shows long-tailed ducks in flight. Here a special for the Hedgehog stamp.
She also wrote some nice lines. Everything fit.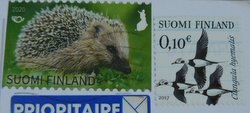 The postcard covered 1,608 kilometers, equivalent to 999 miles, in twelve days.