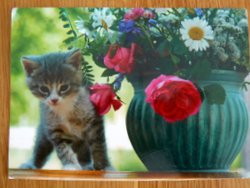 On August 11th a postcard came from Finland.
The postcard shows a young kitten next to a bouquet of flowers in a flower pot.
She didn't write much other than greetings.
On the postcard is a beautiful Finnish postage stamp dedicated to Kalle Päätalo. It was a Finnish writer.
The postcard traveled 1,691 kilometers, that is 1050 miles, in 13 days.