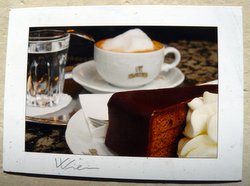 On September 10th a postcard came from Austria.
I like the postcard very much. This shows a picture of a nice coffee (melange) and cake in a Viennese coffee house.
I've also been to an old Viennese coffee house. It is well worth a visit, especially for the atmosphere.
She wrote very nice and many lines. She has dogs and likes nature and Viennese coffee. She put a lot of effort into it.
On the postcard is an Austrian postage stamp from the year 2021.
The postcard covered 352 kilometers, that is 218 miles, in 7 days.
Update on December 21st, 2021: the postcard became the postcard of the month September 2021