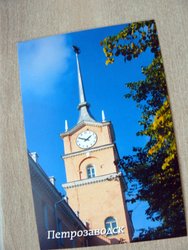 On April 9th, a postcard came from Russia.
The postcard shows picture of the tower of the city's post office.
She wrote in German because she had been learning German for half a year. I was happy about it.
She wrote very nice lines.
The postcard was in a large envelope with 9 stamps on it. Of the many Russian standard postage stamps, 2 were special. These Russian postage stamps show an old city wall with a tower. Like them a lot.


The postcard traveled 2088 kilometers (1297 miles) in 22 days.