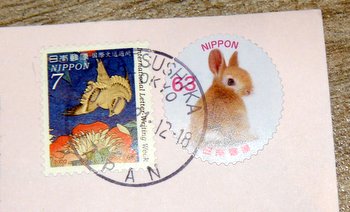 The most beautiful postcard of the month arrived on January 29, 2021. The postcard came from Tokyo, the capital of Japan.
The postcard is just wonderful. The entire front is covered with postage stamps from Japan. Even if I'm not a stamp collector, she designed the card with so much effort that it became the postcard of January 2021 for me.
There are also two beautiful stamps on the text side. One of the two stamps shows a small rabbit and is round in shape. There aren't many round stamps.
The postcard only took 10 days to cover the 9,379 kilometers (5,827 miles).