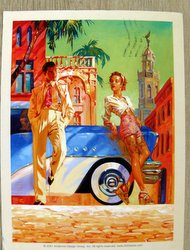 On February 5, 2022, a postcard arrived from the USA.
The postcard shows in retro colors a kind of latin town with a young couple in front of a caddilac.
She is from Michigan and was a history teacher. She also has cats.
There are 5 stamps on the postcard. I already had the 3 stamps with the grapes in the overview of the fruit stamps.
I like the Lunar New Year stamp. The stamp year is 2022.
The postcard covered 7030 kilometers, that is 4368 miles, in years.