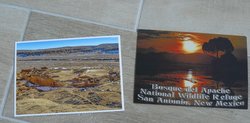 On January 7th I received another postcard from the USA. More precisely from New Mexico.
There are even 2 postcards in total that were in one envelope. A postcard shows the Bosque del Apache National Wildlife Refuge un San Antonio.
Rare animals and plants threatened with extinction live there.
The other postcard shows Pueblo Bonito in the Chaco Culture National Historical Park.
This two set of cards and the stamps he chose are special.
The postcards took 16 days to travel and the distance was 8,981 kilometers (5,580 miles).