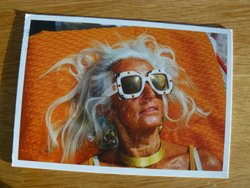 On March 6th a postcard came from the Netherlands.
It is a postcard from the Martin Parr Foundation. An older tanned woman basking in big sunglasses.
He writes a few lines of text from the Flying Lizards music group "Money That's What I want".
The stamps on the postcard are great. Especially the two from TPG Post. In the style of M.C. Escher.

The postcard covered 489 kilometers (303 miles) in seven days.