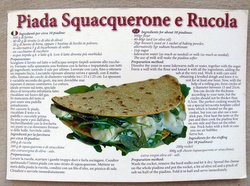 On October 20th a postcard came from Italy.
A postcard that whets your appetite. The postcard shows a picture and the recipe of a Piada Squacquerone e Rucola (Rocket).
Delicious.
He also writes that it is his favorite food. He lives in a medieval city that is full of sights from the Middle Ages.
He wrote nice lines.
On the postcard is a postage stamp from the Italian actor Vittorio de Sica. He lived from 1901 to 1974. He played in 160 films, 125 plays and directed more than 35 films. An incredibly successful career. Nice that there is a postage stamp from him.
The postcard covered 404 kilometers, that is 251 miles, in 81 days. For this very short distance, a very long time.