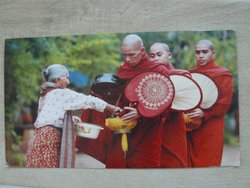 On April 10, the first postcard from the Philippines came.
It was a monk postcard. The scene shows an elderly woman giving rice to three monks.
She wrote that the postcard is from Myanmar. The scene can be seen very often there and is normal. She has visited Myanmar many times and hopes to do it again soon when the situation has calmed down.
Two very beautiful flower stamps are on the postcard.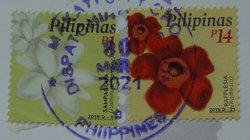 The postcard was franked with 15 Philippine pesos. That is the equivalent of € 0.26 or US $ 0.31, which is 72% less than the German franking.
The postcard traveled 10,191 kilometers (6,332 miles) in 34 days.