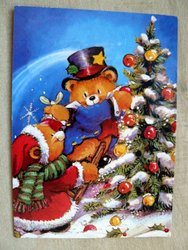 On November 25, 2021, a postcard arrived from Finland.
It was a Christmas postcard. Two drawn teddy bears decorate a Christmas tree.
She wrote some greetings for Christmas and New Year and drew two small pictures. She tried hard and was apparently still young.
On the postcard is a stamp showing a Finnish log cabin in the snow. I like it.
The postcard traveled 1596 kilometers, that is 991 miles, in 5 days.