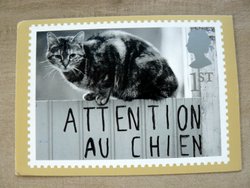 On July 8th a postcard came from England.
The postcard shows a cat on a wooden fence. It says in French, Beware of the dog.
The photo is according to the postcard from Richard Kalvar of Magnum Photos, published by the Royal Mail.
She wrote that she is from Sheffield. This city is also called the City of Steel in England.
There is a recent British postage stamp on the postcard. This shows Prince Philip, who died in 2021.
The postcard covered 1073 kilometers, that is 666 miles, in just 4 days.