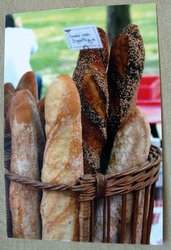 On December 4, 2022, a postcard arrived from France.
It's a postcard showing a basket with different baguettes.
I love baguettes.
He wrote some nice lines. He lives in the French Alps region and not far from the Swiss border. The first sentences were in German.
It is a postcard that was sent via a online portal, so it is not handwritten and the stamp is unfortunately only printed.
The postcard was in an envelope.
The postcard covered 431 kilometers, that is 267 miles, in 13 days.