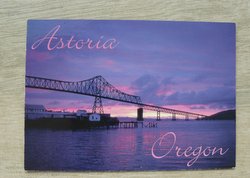 On April 25th, a postcard arrived from Idaho, USA.
She sent a postcard from the Astoria-Megler Bridge. This bridge connects Oregon and Washington.
According to the postcard, the photo is from Don Kinunen.
The Astoria-Megler Bridge is 4067 miles (6,55 km) long and crosses the Columbia River.
The bridge belongs to the U.S. Route 101, which connects the cities of Olympia, Washington and Los Angeles, California. Seattle is 173 miles away.
The Astoria-Megler Bridge was opened to traffic on July 29, 1966 (source: Wikipedia).
She wrote that she is very fond of this place. She hopes to visit again soon. She likes the Pacific coast.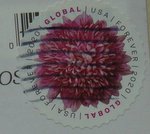 The postage stamp on the postcard is a standard U.S. Global.
The postcard covered 8,600 kilometers (5343 miles) in 9 days.
Here is a map (google maps) section showing the location of the Astoria-Megler Bridge.