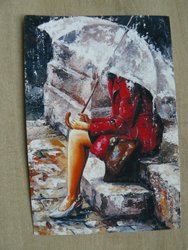 The postcard for June 2021 came from Russia and shows an impression of a painting by Emerico Toth.
It's a woman in a red coat, sitting in the rain with an umbrella.
Even then, when I held the postcard in my hand, I knew that it could become the monthly postcard.
Emerico Toth is a Hungarian abstract painter.
It is simply beautifully painted and looks very authentic. At the same time it had rained a lot here too, so the postcard fit the present.
I just like the card.
Very nice postcards have already arrived for July. I think the selection will be more difficult, including the stamp of the month.