On February 17th a postcard came from Kentucky USA.
It is a postcard from the Red River Gorge in the local rental of accommodation, sale of climbing accessories and outdoor clothing.
Red River Gorge is a canyon system also known as a rock climbing area, its waterfalls and natural sandstone bridges.
He doesn't write much, except that he celebrates with friends.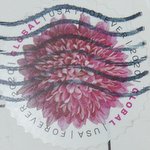 The postcard took ten days to cover the 7,268 kilometers (4,516 miles).